The Hotel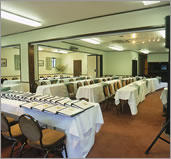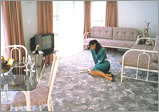 The Convention hotel is the Quality Inn Manukau (previously Allenby Park Motor Inn) - previously used for DisContinuity in 1992. It is located at 477 Great South Road, Manukau City, 8 minutes drive from Auckland Airport and 15 minutes from the city centre. From the airport turn left at the end of Puhinui Rd
The main conference room seats 175 people, but can be split in half for smaller events, and there are also three other smaller conference rooms. There is of course also a licensed restaurant and bar.
The hotel has 68 rooms, 12 of them family suites sleeping up to 6 people. As it's a relatively small hotel, we should be able to take over a large chunk of it, but be sure book early to be certain of getting a room!
To contact the hotel directly call (09)277-7320
Room rates are as follows:
Single/Twin rooms: $85.00 + GST per night
Family Suites: $130.00 + GST per night
For those of you with wireless capable laptops, the hotel is listed as a Telecom Wireless Hotspot.
Getting to the hotel
The hotel provides a courtesy coach to and from the Airport, if you're flying in to Auckland. If you're driving, see the map below - there's plenty of parking available at the hotel. Check back later for public transport options.